At Home as an app
The tablet games from fingers in motion were specially developed for people who would like to train their fine motor skills.
And that independently and with fun!
These are e.g.:
Children who want to improve the way they hold and use a pen.
People with neurological diagnosis, such as MS and Parkinson, who want to button their shirt and eat grapes without any help in every day life.
Individuals who have suffered a stroke or a craniocerebral-injury and would like to improve the movements in their hands and fingers.
Patients whose dexterity can be recovered after a hand operation, through regular training.
Elderly people who want to maintain their fine motor skills.
Everybody who thinks quick and nimble fingers are useful!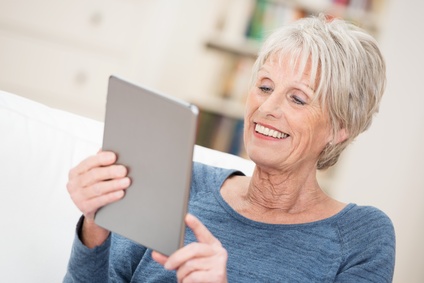 While developing the exercise games, we are attaching great importance to the intuitive operation of the program, so you have an uncomplicated gaming experience.
How it works
Through your occupational therapist (or another therapist) you receive your login details for the exercise game "finger circus".
Next you download the game from the AppStore or Google Play onto your own tablet, so you can exercise independently, at home.
Your exercise-process will be documented automatically and shared with your therapist online, so that you both have an overview of your improvement, and can review it together.